La primavera del 2019 si apre per il Birrificio Pontino con una nuova creazione: ACID QUEEN, 'Kettle Sour Ale' da 4,5% Alc.

ACID QUEEN – Sour Kettle Ale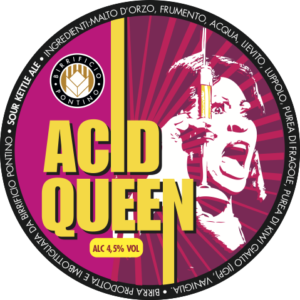 "Your mind must learn to roam. Just as the Gypsy Queen must do" The Who
Acid Queen viene incoronata in tre mosse. Acidificare il mosto prima della bollitura con fermenti lattici (WildBrew Sour Pitch Lallemand); lasciar fermentare con purea di fragole e kiwi giallo (IGP); concludere con un dryhopping di Citra ad esaltare gli aromi della frutta. In un mantello roseo, la nostra regina è secca ma mai aggressiva, grazie all'aggiunta di vaniglia.
Ingredienti: Malto d'orzo, Frumento, Acqua, Lievito, Luppolo, Purea di Fragole, Purea di Kiwi giallo (IGP), Vaniglia.
Dati tecnici
Alc. 4,5%
IBU: 7
EBC: 5
https://www.birrificiopontino.com/wp-content/uploads/2019/03/acid_queen.png
480
479
Tof
https://www.birrificiopontino.com/wp-content/uploads/2020/03/logo.png
Tof
2019-03-20 11:08:05
2019-05-21 15:15:19
Birrificio Pontino presenta Acid Queen